Rate parity ? or not
Elsewhere I have posted my thoughts on rate parity. Those of you who know me know that it is one of my pet hates.
You will also know that I detest some of the rate shopping tactics and related attitudes employed bhy the OTA's in particular. Wish they would focus more positively on their 'lambs to the slaughter' suppliers (hotels), rather than have this witch-hunt to 'find them out'.
Anyway most of the rate shopping carried on by OTA's focuses on their competitors rather than the hotel's own website, thereby giving the hotel the opportunity to persist with a lower rate guarantee policy on its website and so encourage direct sales and channel shift
Rate Gain recently produced two sets of stats showing just what a farce (the word i use for RP) rate parity actually is – WORLDWIDE – have a look below(by the way rate gain is now Innfinite's preferred channel management and rate shopping technology partner through its association with Sabre and Navarino, and Rate Gain will shortly be integrated into the Sabre CRS which is Innfinite's preferred e-commerce partner) - - - - - - - - - - -
ASIA HOTELS
Three star
| | | | |
| --- | --- | --- | --- |
| City | % Of Hotels in Parity | % Of Hotels Cheaper on Brand Sites | % Of Hotels Cheaper on OTA Sites |
| GOA | 27% | 13% | 61% |
| MUMBAI | 0% | 34% | 66% |
| NEW DELHI | 4% | 28% | 68% |
| SINGAPORE | 9% | 22% | 70% |
| BANGKOK | 2% | 25% | 74% |
| PHUKET | 4% | 33% | 63% |
| DUBAI | 3% | 28% | 69% |
Four star
| | | | |
| --- | --- | --- | --- |
| City | % Of Hotels in Parity | % Of Hotels Cheaper on Brand Sites | % Of Hotels Cheaper on OTA Sites |
| GOA | 0% | 19% | 81% |
| MUMBAI | 2% | 14% | 84% |
| NEW DELHI | 2% | 27% | 71% |
| SINGAPORE | 1% | 38% | 62% |
| BANGKOK | 1% | 21% | 77% |
| PHUKET | 1% | 11% | 87% |
| DUBAI | 2% | 21% | 77% |
Five star
| | | | |
| --- | --- | --- | --- |
| City | % Of Hotels in Parity | % Of Hotels Cheaper on Brand Sites | % Of Hotels Cheaper on OTA Sites |
| GOA | 13% | 34% | 53% |
| MUMBAI | 2% | 32% | 66% |
| NEW DELHI | 9% | 23% | 68% |
| SINGAPORE | 3% | 24% | 73% |
| BANGKOK | 5% | 20% | 75% |
| PHUKET | 0% | 0% | 100% |
| DUBAI | 4% | 26% | 70% |
EUROPE HOTELS
Three star [
| | | | |
| --- | --- | --- | --- |
| City | % Of Hotels in Parity | % Of Hotels Cheaper on Brand Sites | % Of Hotels Cheaper on OTA Sites |
| PARIS | 21% | 24% | 55% |
| ROME | 8% | 26% | 66% |
| VENICE | 3% | 38% | 59% |
| AMSTERDAM | 3% | 18% | 79% |
| MADRID | 2% | 17% | 81% |
| ZURICH | 5% | 21% | 74% |
| LONDON | 24% | 34% | 42% |
Four star
| | | | |
| --- | --- | --- | --- |
| City | % Of Hotels in Parity | % Of Hotels Cheaper on Brand Sites | % Of Hotels Cheaper on OTA Sites |
| PARIS | 22% | 19% | 59% |
| ROME | 9% | 29% | 62% |
| VENICE | 2% | 29% | 69% |
| AMSTERDAM | 0% | 17% | 83% |
| MADRID | 1% | 22% | 78% |
| ZURICH | 5% | 30% | 65% |
| LONDON | 23% | 17% | 61% |
Five star [
| | | | |
| --- | --- | --- | --- |
| City | % Of Hotels in Parity | % Of Hotels Cheaper on Brand Sites | % Of Hotels Cheaper on OTA Sites |
| PARIS | 25% | 14% | 61% |
| ROME | 15% | 34% | 51% |
| VENICE | 0% | 25% | 75% |
| AMSTERDAM | 0% | 22% | 78% |
| MADRID | 20% | 25% | 56% |
| ZURICH | 0% | 34% | 66% |
| LONDON | 8% | 24% | 68% |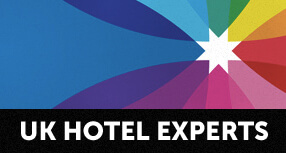 Hoteldeals.co.uk, your one-stop-shop for the best UK short hotel breaks, spa breaks, budget UK hotel deals, UK hotel city breaks and special offers at a collection of UK Express hotels, UK Holiday Inn hotels and a collection of unique hotels across Scotland, England & Northern Ireland. MORE»

We are a portfolio of five Hotels, based exclusively in Scotland, proudly offering a rare blend of quality, service and price in a range of City and Country House locations across the country – in Edinburgh, Glasgow, Aberdeen and Perth..MORE»

Edinburgh Hotels Association presents to you an outstanding quality selection of like-minded member hotels and accommodation in Edinburgh all customer focused, service driven – and more recently, proactive in Green and sustainable tourism.MORE»
Featured independent hotels of quality in Scotland